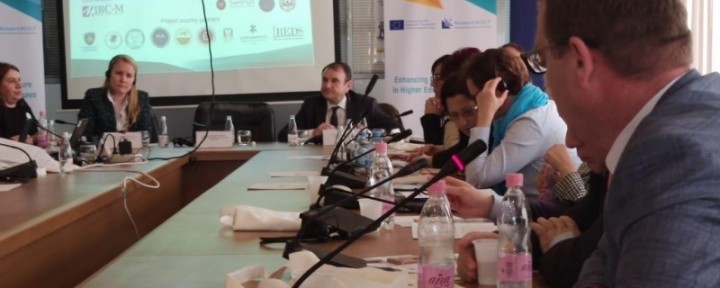 UGJFA beneficiary of Research Cult project, Rector Nimani participates in the launch
The structural project Erasmus + (ResearchCult) was launched in the Ministry of Education, Science, Technology and Innovation, in the presence of Minister Hykmete Bajrami. The beneficiary of the project "Improving research culture in higher education in Kosovo" is also the University of Gjakova "Fehmi Agani". The project partnership by UGJFA was supported by Rector Nimani.
The aim of the ResearchCult project is to support the growth of research culture in higher education institutions in Kosovo, by supporting the development of good policies and practices, as well as the creation and installation of new regulations, structures and mechanisms in the project beneficiary institutions in Kosovo.
Some of the project objectives include: assessing the current state of research capacities in the high sector in Kosovo, increasing research stimulation and support, improving the university strategy for publishing research, promoting research through scientific conferences, improving quality and standards of research, facilitating regular access to research publication, increasing research publication opportunities, etc.
Participants in the event were government officials, higher education institutions, international actors and other stakeholders, scholars and the media.
This project is funded by the European Union.